Legislative Agenda
83 Years of Sportsmanship That Builds Leadership
Conserving Arizona's Land & Wildlife since 1936
---
Mexican wolf population gets genetic boost with a record 20 captive-born pups cross-fostered into wild packs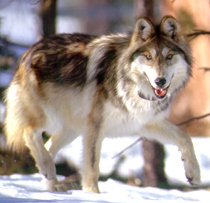 PHOENIX – The Mexican wolf recovery effort recently got a genetic boost when biologists from the Arizona Game and Fish Department (AZGFD), New Mexico Department of Game and Fish (NMDGF), and Mexican Wolf Species Survival Plan (SSP), with extensive logistical support from the U.S. Fish and Wildlife Service (USFWS), worked together to cross-foster 20 genetically diverse wolf pups from captive facilities across the U.S. into litters of wild wolf packs.
Over a six-week period in April and May, 12 pups were fostered into four different packs in eastern Arizona and eight were fostered into three packs in western New Mexico.
Cross-fostering is a proven method used by the Mexican Wolf Interagency Field Team (IFT) to increase genetic diversity in the wild Mexican wolf population. It involves placing genetically diverse pups less than 14 days old from captive breeding populations into wild dens with similarly aged pups to be raised as wild wolves. The IFT has documented that cross-fostered pups have the same survival rate as wild-born pups in their first year of life (about 50%), and survival rates using this technique are generally higher than other wolf release methods.
To read the full article, click on the link below:
https://www.azgfd.com/mexican-wolf-population-gets-genetic-boost-with-a-record-20-captive-born-pups-cross-fostered-into-wild-packs/
---
Senate Passes Great American Outdoors Act
Thursday, June 18, 2020
WASHINGTON - The U.S. Senate has passed the historic Great American Outdoors Act (S. 3422), which represents the single greatest commitment to increasing public access and advancing conservation in a lifetime, on a strong bipartisan vote of 73-25.
The Great American Outdoors Act will provide $9.5 billion over 5 years to address the crumbling infrastructure on America's public lands and waters. While the National Park Service will receive $6.5 billion in funding, the Congressional Sportsmen's Foundation (CSF) led a successful effort to secure the inclusion of $3 billion to repair and maintain public land infrastructure overseen by the Bureau of Land Management (BLM), U.S. Fish and Wildlife Service (USFWS), and U.S. Forest Service (USFS), which provides critically important recreational opportunities for America's sportsmen and women.
"The Congressional Sportsmen's Foundation applauds Senate passage of the Great American Outdoors Act. Today's vote demonstrates the bipartisan support for advancing conservation and increasing access for hunters and anglers," said CSF President Jeff Crane. "When signed into law, this bill will provide much needed support for public lands and waters and boost the already formidable outdoor economy. CSF extends our sincere thanks to the Senate Congressional Sportsmen's Caucus (CSC) members that voted to support these priorities."
To read the full story, click on the link below:
https://www.theoutdoorwire.com/releases/56e4c3ed-9df0-4b0a-bfcc-8cbd2679d021